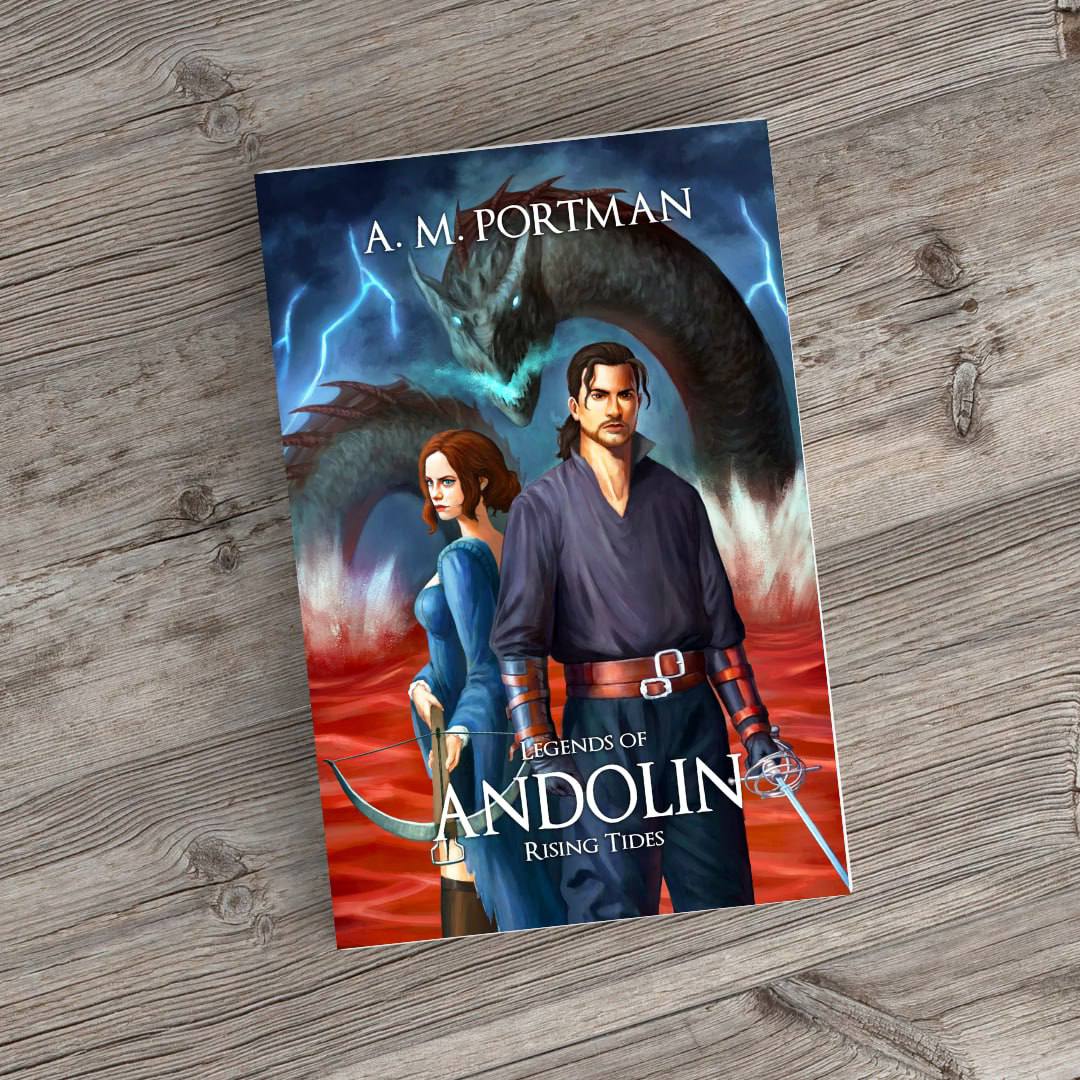 Rising Tides
Hello, friends!
I'm happy to announce the second book in the Legends of Andolin series, Rising Tides, is nearing the final stages of editing, and the cover art is ready to go. The photo above is the paperback cover and features Kol and Adella again, like the first one, but now they are accompanied by a sea serpent, or Pelkimund, in the background. The hardcover book will again have a surprise design beneath the dust jacket, which I've yet to reveal.
My intention with this series is to write an exciting adventure-fantasy book series that feels like a rediscovered classic, but with a modern, fast-paced plot. The first book, Adella of the Campos, shows Adella Grimless's character grow from a care-free young lady on the frontier of Valenna, to a responsible woman prepared to take on her father's duties to the kingdom.
In Rising Tides, the adventure picks up right where it left off. From the back cover:
With the Heart of the World safe at the Capital, Lady Adella Grimless and her friends turn their attention to the looming war with Sornia. Pressed by the increasing threat in the Campos, Adella, Kol and Armand each part ways to face dangers from both land and sea on their own.
As Kol embarks on a perilous mission across the frontier, he learns the truth about his tragic past. Meanwhile, Armand heads to Raymouth to deliver a message, but soon finds himself on a reaver ship heading for troubled waters.
As the Sornian army closes in on Elldon, Adella travels to Pentz to seek assistance, but things don't go as planned. When she faces death in the watery depths, one thing becomes clear:
The legends of Andolin are real… And disaster is coming.
I'm really excited about this second installment because I believe that, if you liked Adella of the Campos, you will love Rising Tides. The characters continue to learn and grow, but also the writing moves much deeper into each character's thoughts and emotions, which is something readers were asking for in this second book.
You probably know by now that this series began as a birthday present to my sister, and she reads the story as it's written chapter-by-chapter. I had to apologize to her profusely after this book because I attempted to create a likable but doomed character, and apparently I succeeded. She was very upset.
Adella, Kol, and Armand make questionable choices in Rising Tides; they have grown as people, but still aren't perfect. To me, that makes them real. I hope you will continue to love them through all of their triumphs and mistakes; there are many more to come.
Thanks for reading,
~Audra